So, last week I signed up for eurosportplayer.no to watch some Europa League fotball (soccer). The site looks trendy and good, and my experience watching live sports for 90 minutes was overall good. No HD from what I could find and some occasional hiccups in video streaming. I can live with that, although HD would be nice!
With that said, the signup process on the other hand needs some constructive criticism! I'm unsure if they use HTTPS at all. I didn't dig deep to find out, but it surely looks like it's going over HTTP. I'm probably wrong, but they should let me browse their site over HTTPS by default if you ask me, and that's not possible at the time of writing. Anyway, after entering my email address and password I received this email: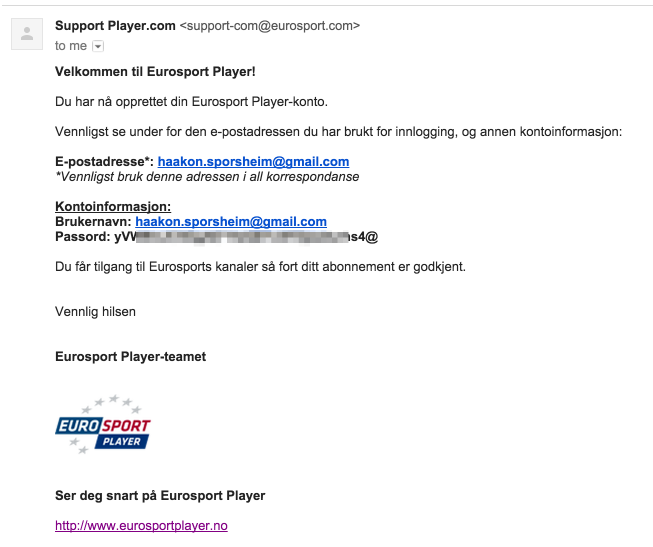 Yes, they actually sent me my password back in plain text. Which probably means they store all passwords in plain text as well. Come on - it's 2015, we don't do these baby mistakes anymore. Eurosport, Discovery or whoever you contracted; what's wrong with you people?
As far as I understand, Tv2 bought the rights to English Premier League for the next three seasons, with Discovery Networks Norway as a close contender. Maybe that's a good thing afterall!?